Is Bigger Really Better? Yes.
The LARGER the HELI SKIING terrain, the better the skiing.
Northern British Columbia is a big mountain paradise, and we have access to so much heli skiing terrain, it ranks as one of the largest ski areas on the planet. We have the variety of terrain, the deep snowfall B.C. is famous for, and easy access from our cozy, wilderness luxury lodge.
When it all comes together, Skeena Heliskiing takes the one or two features other heli skiing operations brag about and heaps them onto a pile of awesome as high as a Skeena Mountains peak. And we want to share it with you. From the high country peaks we ski, to the high thread count sheets in the beds of our luxury lodge, Skeena prides itself on achieving everything at its true pinnacle.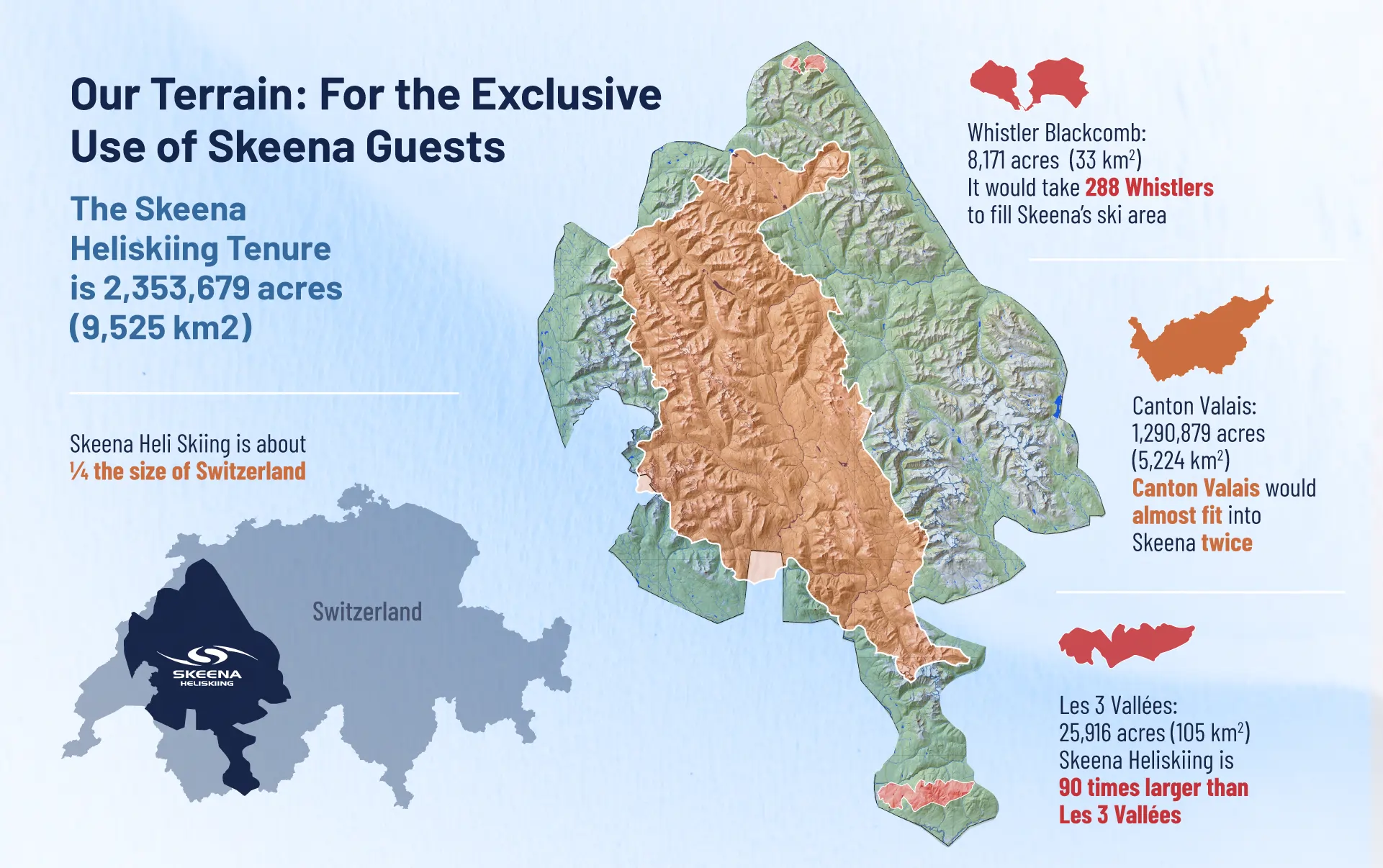 More terrain and snow. And no rush.
Wide open powder turns? We love them.  Chutes and perfectly spaced tree skiing? We can do that too. From steeper high alpine slopes all the way down through gentle powder bowls and intermediate gladed tree skiing, Skeena offers a little bit of everything. If you ski or ride well, you'll fall in love with our terrain. There's no rush—we have more than enough to go around.
Happily on Top of the World
At Skeena, we have it all: untracked snow, epic heli skiing terrain, plus the right people to make it as enjoyable as possible. Between the dry interior and the wild wet British Columbia coast, we are ideally situated where the snow suits the terrain. Our location in northern BC means rain is rare. The snow is plentiful. The coastal snowpack sticks to the mountain and makes for a strong foundation. It means safer skiing, more snow, and it's all by design. Every turn just for you.
Find out what dates we have left
(we usually sell out a year in advance)
Inquire Now