Easy to get to. Easy to stay.
From Vancouver to Heaven, in just four hours
There are few places in Canada as beautiful as northern British Columbia; this is where Skeena lives, and getting here is easy. Begin your journey north at Vancouver International Airport (YVR) where the mountains tower over the steel and glass oceanside towers. It's a short 1hr40 flight to Smithers Airport (YYD), where the peaks get pointier, snowier, and significantly less populated. From there, we shuttle you to the luxurious Bear Claw Lodge on the banks of the Kispiox River, saving time, money, and energy on your journey. Even guests from Europe are able to leave home in the morning and fall asleep in a comfy bed by evening's end*.
Want to get to the powder faster? Our Private Helicopter packages get guests skiing on their day of arrival. All guests spend a full day skiing on the final day before flying back to Vancouver the following morning.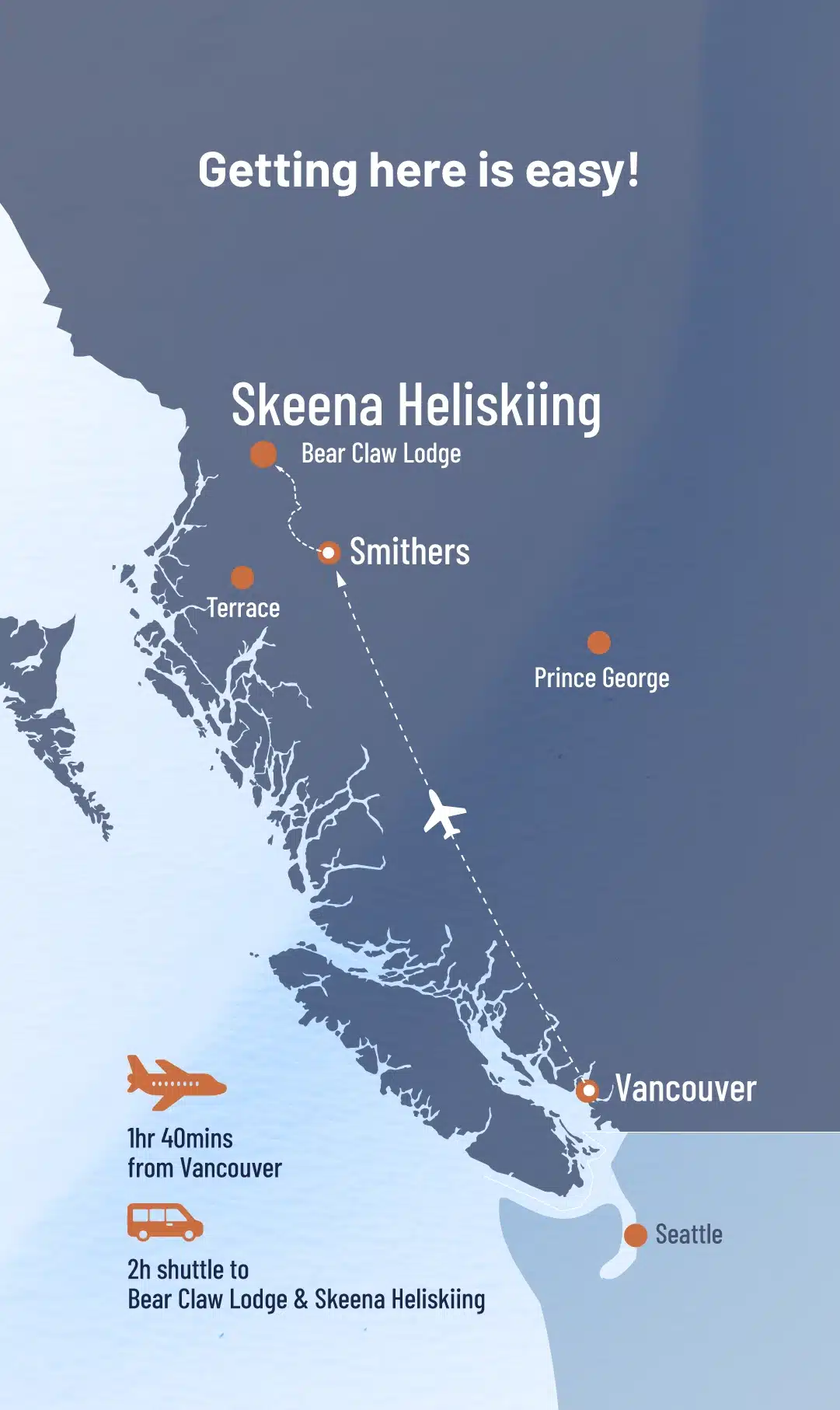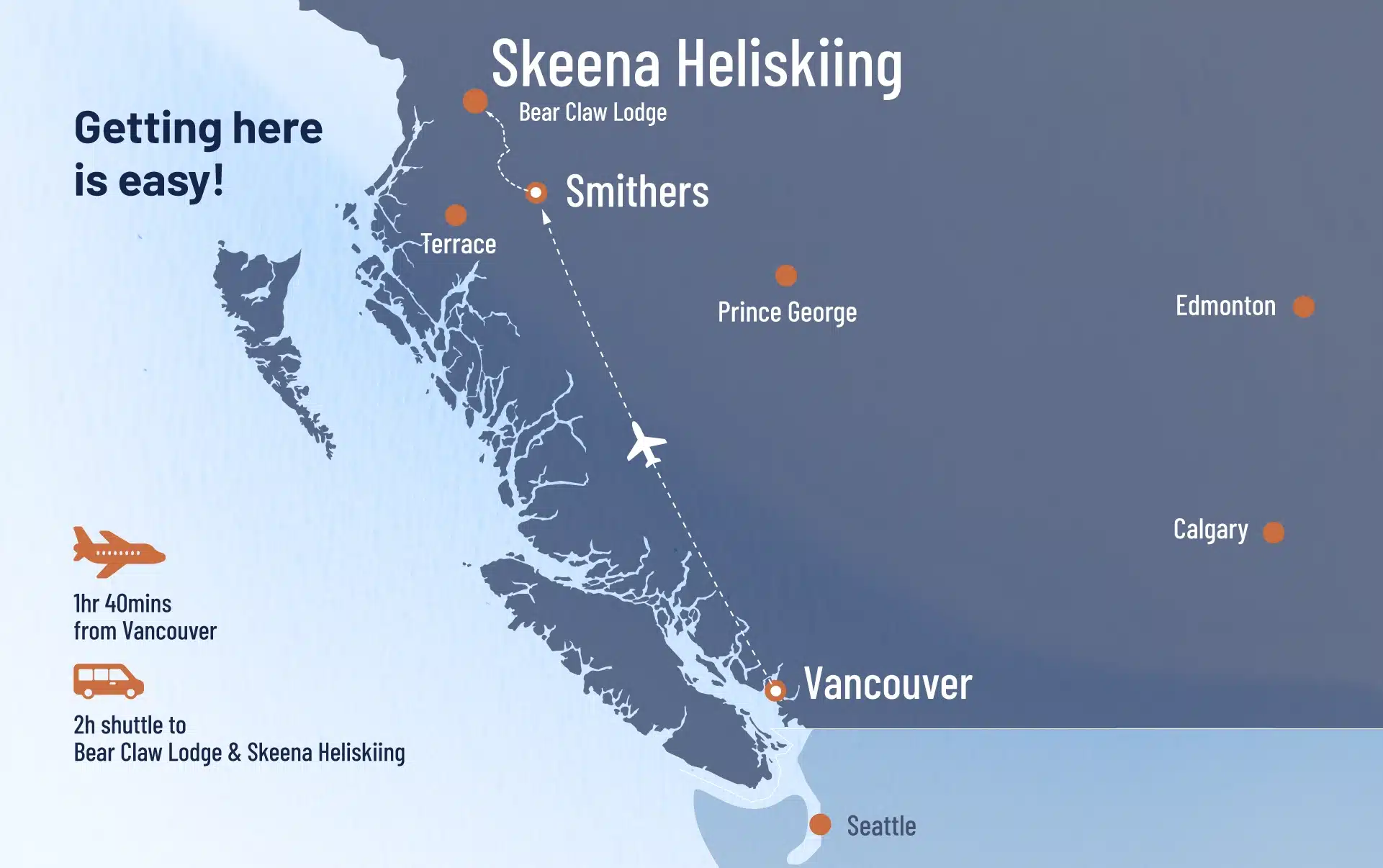 A Hint for Our European Friends
Make life easy. Book a flight to Vancouver with a Star Alliance airline, like Air Canada or one of its partners, and you will need only one ticket for the entire journey. Your luggage will be checked all the way through to Smithers.
* While it is possible to travel from Europe to our lodge on the same day, we recommend that you overnight in Vancouver before travelling up to us. You can explore the city, or even do a few days of skiing in Whistler.
Beauty is a Short Flight Away
From Vancouver's Ocean Views to the Skeena Mountains
The 1hr40 flight to Smithers, B.C. leaves late in the afternoon, meaning one day of travel, saving you time and money. No extra hotel nights. No worries. Even for Europeans. See? Getting here is easy.
Want to ski on your Arrival Day? Book a Private Helicopter package to ski 7 days (all other packages include 6 days of skiing). All guests ski for a full final day before flying back to Vancouver the following morning.
The Advantage of Skeena
While some other operations rely on private chartered flights, our guests travel on the more reliable and versatile commercial flights to Smithers, from the convenience of YVR's main terminal. We take no chances getting you to where you need to ski. Why would you?
SMITHERS to Bear Claw Lodge
From a Rad Little Ski Town to the Home of Skeena Heliskiing
The Skeena team will be waiting when you deplane and smell the fresh mountain air. From there, we shuttle you through wide river valleys and wilderness viewpoints. The travel time is only 2 hours. You'll arrive shortly after 8:00pm to friendly faces and tasty snack trays. We'll put a drink in your hand and your chair by the fire, where you'll receive an intro to the Skeena team. Settle in, relax, and go to bed in anticipation of the amazing heli skiing that will take place in the coming days.
Not keen on taking our ground shuttle? If you have booked a Private Helicopter package spend a little extra (or use some of the included flying hours) and take in the expansive views of the mountain peaks during a 30-minute helicopter flight to Bear Claw Lodge. You arrive at the destination—and the hot tub—early.
The Day of Departure
Shredding, Sleeping, and Heading South to Vancouver
Real skiers know a good turn when they see it. Every guest at Skeena skis a full day on the last day (Thursday). After saying goodbye to your new Skeena friends on Friday morning, our shuttle takes you to the airport to connect with the mid-morning Vancouver flight. Most guests will get home by evening. And most will be back to Skeena again. Like we said, real skiers know a good turn when they see it.
What's Your Availability? Here's Ours.....
Some weeks sell out 2 years in advance.
It's never too early to plan your dream trip
Rates & Dates
It's easy to get here, but what package to book...