A Week with Skeena Heliskiing
Every day we aim to exceed your expectations
There's no such thing as a typical week of heli skiing at Skeena. Every day's a new adventure. But we also understand you'd like to know what to expect, so here's what a week of  heli skiing might look like.
Note: in 2025 our weekly schedule will run Thursday to Thursday. For 2024 the schedule is Friday to Friday.
Day 1 - Arrival Day (Friday)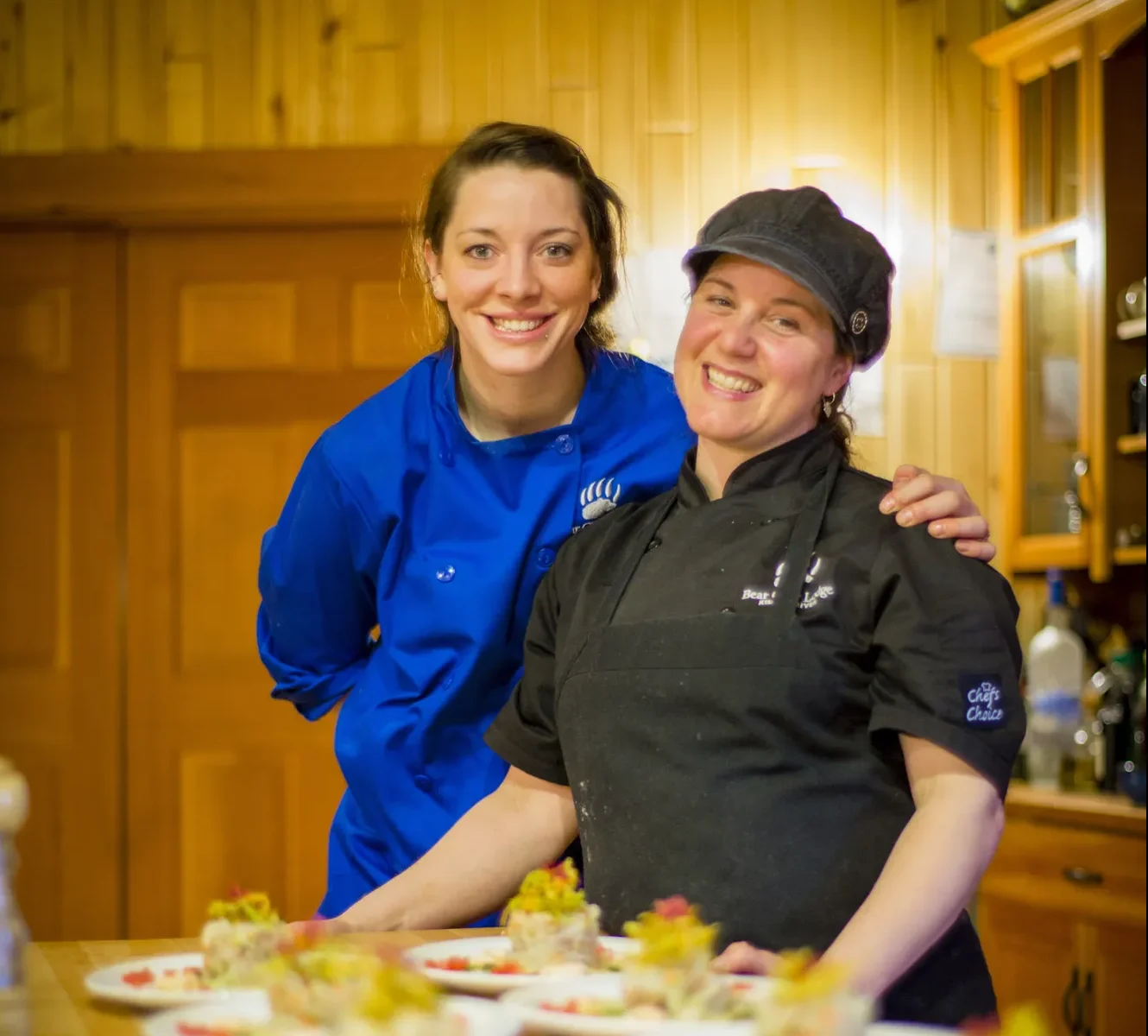 Day 1 - Arrival Day (Friday)
Skeena Heliskiing is off the beaten path in the middle of the wilderness, but still only a 2 hour drive from the Smithers Airport. We pick you up from the airport, and after driving through little villages and over mighty rivers, you arrive at Bear Claw Lodge, nestled on the banks of the Kispiox River.
You'll walk into the lodge to be greeted by a roaring fire and the smell of good food as you arrive at your heli skiing home away from home. You'll arrive a bit after 8:00pm, welcomed with snacks, drinks, and an intro to the lodge and our team. It's a relaxed evening so you can settle in, unwind, and get to bed ready for your first day of heli skiing.
Day 2 - First Heli Ski Day (Saturday)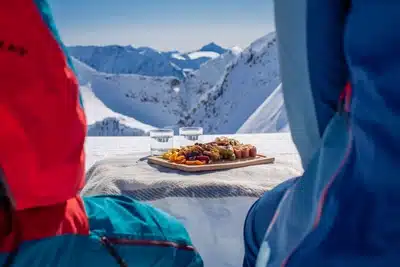 Day 2 - First Heli Ski Day (Saturday)
Let us know your preferred wake-up time and we will bring your favourite hot drink to your room where you can enjoy it while gazing at the mountain views. At 7:15am join the stretch class to get your muscles ready for skiing. At 8:00am enjoy a hearty breakfast to fuel you for the day ahead. Every day there's a breakfast bar and a hot breakfast special.
At 8:20am your guides will join you to talk about the day ahead. Then you will head outside to do the safety and helicopter briefing. Once your safety training is done, and your skis are ready, it's into an A-Star from Northcoast Helicopters and off to untracked slopes. That first day you'll be skiing around 11:00am.
You will have lunch in the mountains; homemade sandwiches, soup, and freshly baked cookies. There is always plenty of food to keep you going because you'll be going hard, getting the most out of your Unlimited Vertical or flying hours. The last lift is at 3:30pm, and you'll be back at the lodge at 4:00pm for Après Ski.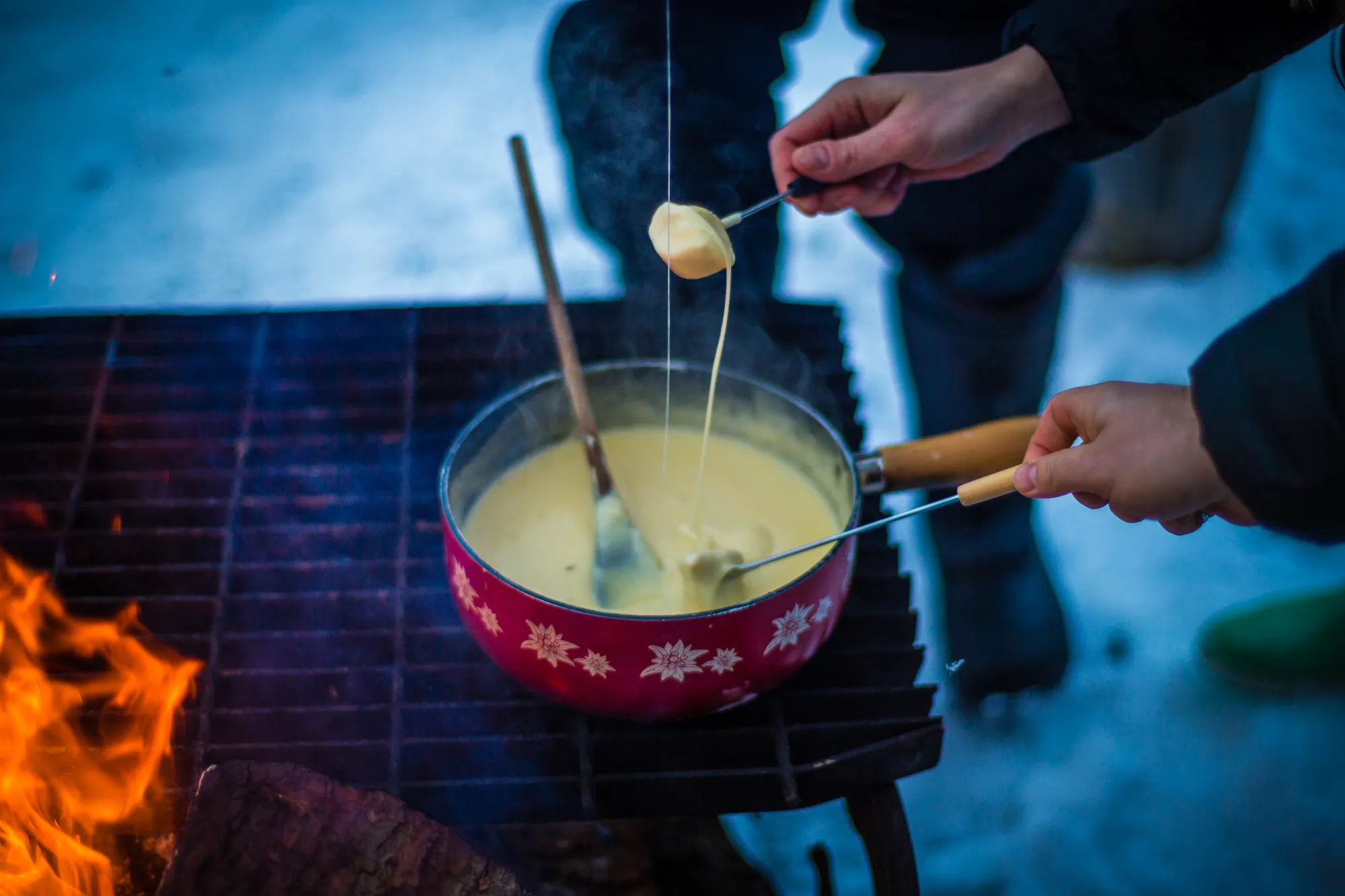 After a day on the snow, the stoke is high and the party starts. Fly back to the lodge and land steps away from where you'll be greeted by a warm welcome around an outdoor fire, where the music's playing, your favorite drink's on ice, and delicious appetizers await.
After swapping stories about your amazing runs, have a massage. The jacuzzi will be bubbling and the sauna cranking. The truly hardcore might head off for a cross country ski or play hockey on the outdoor ice rink. And we've always got secrets up our sleeve to make your stay extra memorable. Dinner's at 7:00pm. Then it's off to bed to do it all over again the very next day.
Days 3-6 (Sunday-Thursday)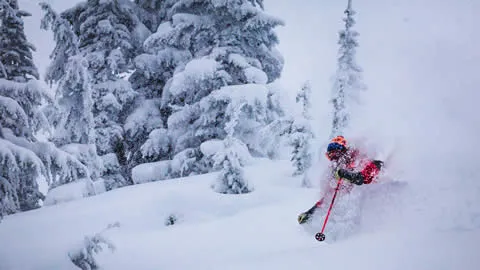 Days 3-6 (Sunday-Thursday)
For the rest of the week, you'll be on the mountain by 9:30am.
If it's a bluebird day, we ski in the alpine, and on snowy days, we ski in the trees. With such vast terrain, it's rare you can't ski. And we rotate which groups head out first each day, so you get to ski with a different guide and each group gets the opportunity to be first out in the field.
Thursday is your last day of skiing, and it is a full day, conditions permitting.
Day 7 - Departure Day (Friday)
Day 7 - Departure Day (Friday)
Friday is Departure Day and time to say goodbye to new found friends.
Pack your bags, then join us for a final breakfast before jumping in our shuttle for the Smithers Airport. Your flight will depart mid-morning, therefore, you should arrive in Vancouver in time to make your flight home, even for Europeans.
It's always a week to remember, which is why 80% of our guests return to do it all over again. And we hope you will be one of those!
The Adventure of a Lifetime Begins with This One Click